Alright, I've had it.
You there - yes, I'm talking to
you
. The lurky one. Leave a comment.
Show yourself
! Surely you are not disgusting and full of boils, hanging out in the shadows as you are. And if you're fairly Frankenstein-esque, we can still be friends. Like in some weird indie movie.
Translation: according to my bloggy thing I'm getting a decent number of page views and very few comments. It will be hard, though not impossible, to make out with you if I don't know who you are.
Oh, and if you are some sort of ghost with an internet connection, if you could insert some Harry Belafonte into my life by force, I really feel like that would pick up my spirits. K thanks.
In other news - I've dislocated my jaw. (Mind out of the gutter, girls... Just for now). I'm a teeth grinder. I do this at night, it's my unconscious way of dealing with stress because during the day my response to it is inappropriate jokes and general shenanigans (I'll pause for surprise...)
Pause.
Anyhoodle. This means my face is a little off kilter and I sound a little like Greta Van Susteren. It also means more time on my couch, more medication, and more playing Animal Crossing on wii with my sister-in-law. (Oh, I'm 30.. Wait, why are you asking?)
I was also thinking about adding food into the topic-o-conversation around here.
Just every once in awhile.
See, when I failed my glucose tolerance test a little over a year ago, I had to learn to cook. The upside & downside to living in a big city is that if you want something delivered,
so it shall be
. I had an aversion to doing any kind of cooking, eating anything remotely
healthy
adventurous, so I was thinking of every once in awhile sticking a recipe in here, in case you are trying to eat healthy because you're trying to conceive, you're pregnant, or like me, you were just a pepsi guzzling vegetable hater with an attitude problem. PLUS Bubba is a type-1 diabetic (read: skinny person with a treasonous pancreas that just inexplicably died) so all meals are well-rounded and not full-to-the-brim with sugar...
Okay, there are a few that are definitely not good for you, but they're so delicious you would be the happiest fat girl in all the land.
I got most of my recipes online, from friends, or from cooking TV shows. I have a love hate relationship with Rachael Ray, I'm fairly certain the Barefoot Contessa is a manic depressive and Giada de Laurentiis.. Well, I've found recipes from her too, but mostly I watch every once in awhile because I'm pretty sure every time they come back from commercial break her teeth get bigger.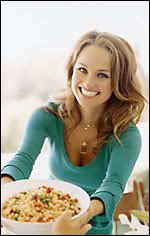 (Seriously, if you're getting veneers and the dentist says "
so, do you want small, medium, large or extra large?
" you do not say "
extra large!
" unless you are Andre the Giant re-made flesh in exchange for dental problems).
Happy Thursday, everyone. Uterine blessings to all.