Happy Friday, my darlings!
I am going to say upsetting things. It is Friday, however, when people flee the internet for 3 days like cockroaches in daylight.
As we speak I am sitting in delightfully new pajama pants counting down the minutes until it is socially acceptable to order some Italian for dinner. Bub has a work thing tonight so I am solo and ironically watching Home Alone to get in the mood to put Christmas decorations up.
Holiday movie, or snuff film? You decide.
There has been some weird shit going on in the blogosphere with the whole pregnant person vs. non pregnant person thing.
If you think I'm talking about something that happened on your blog - probably, but I can count no less than 7 incidents in the last couple of weeks that I'm drawing from so you'd be one of many. Namely with snarky comments and general weirdness. (Oh, I'm also referencing an in real life incident)
Now somehow by the grace of Tom Cruise I have only ever gotten one comment that I believe was meant to insult me (weirdly enough I believe it was meant to say that my dislike of Twilight is a step back for the woman's movement) and only ever read a couple of blog entries that made me say, out loud, in my best Whitney Houston voice "hellllll to the nah" and unfollow.
So by me being general with this, you're not really missing out on any juicy gossip. I'm just talking about the weird divide between people who are already knockedupensphritzel and people who are still in the trenches.
So I submit for your approval, from a completely unqualified and goofy full-of-love place in my heart, some of my ideas on what should be our general rules and guidelines.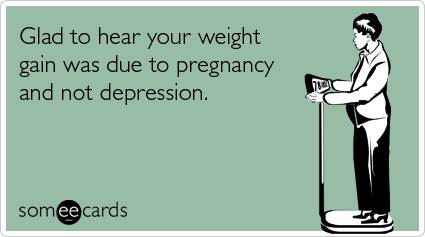 Thoughts for the unpregnant:
Let me start this by saying, I am not pregnant. I was pregnant this summer for about 30 seconds, and it did not end well.
I'll be the first to strip off and jump into the pool here and be honest. There are about... 5-7 ladies that when they got pregnant/should they get pregnant, I am/will be genuinely happy for.
Lemme back up a minute - if someone is not on that list of 5-7, it doesn't mean I'm not at all happy for them or that I wish them ill will (fuck no, settle down) it just means that some percentage of me, upon hearing of their pregnancy, goes "Of Fucking Course".
(And by all means - if there is someone who would like to leave me shivering in the water here and claim that they've never had that response to a pregnancy, please reveal yourself so I can point at you and make my best home alone face).
I don't think the girls who have 'graduated' from infertility will begrudge us this - the vast majority seem completely sensitive to this, and even in the midst of their happiness go to great pains to point out which entries are going to be mildly and/or greatly upsetting to people still in the trenches.
(I'd like to state for the record here that I am not referring to the very few, as the lovely EmHart puts it, 'born again fertiles' who seemingly immediately forget their entire struggle... Those people are an entirely separate breed that requires a post of their own - I'm just talking about the majority of pregnant infertiles.)
I don't think there's anything wrong with, if you're not in a place for it, taking a step back from a pregnant blog if it's too much for you. And I think the pregnant understand that. There's enough misery involved with being around pregnant people in real life that I don't think we have to push ourselves too hard in online life - don't make yourself completely miserable to avoid taking away one one millionth of a persons complete happiness. (And I really think that the vast majority preggos get that).
But here's what we can try our very, very best to do.
The ones you're close to, the ones you feel a connection with - do your very, very best to maintain it. Much more than likely after an infertile gets pregnant there are going to be weeks/months where they are absolutely terrified and still, do not in any way shape or form, relate to fertile people.
I've been traveling this road for three years, and I've had one loss. I can safely say that, should I end up pregnant again, there will be no blind celebration. There will be no immediately telling everyone (except you people). There is no longer an automatic connection in my mind between pregnancy and a healthy baby, that ship has sailed - and I think I can speak for the pregnant in saying for most of them, that ship has sailed too.
Also, should I become pregnant, I swear on a stack of religious pamphlets I will not begrudge people who take a step back from my blog (although in my particular case, I tend to blog about other things anyway and I don't see that changing). There are, however, a few girls who I'm particularly close to who I would expect to try - the operative word here being try - their best to rally around me. Mostly because I will be terrified, I detest fertile people, and if you can manage it I don't want to be abandoned in my scariest moment.
So what I think we can try to do is ask ourselves 'am I one of those few people that if I left them alone right now, they'd be genuinely hurt?' and then do our best not to do that. If it's some new person you're following or someone you don't have a particular connection with - life's too short. If you have one, try to keep it.
Also, they're going to be complaining about pregnancy symptoms. This can be a bit trying - but I think we can try our very best to keep in mind that they're of course grateful, just terrified. Sympathy for the terror is really my greatest request.
Something I literally struggle with everyday is to remind myself that by a woman getting pregnant, she's not taking a pregnancy away from me. Dumb luck has thus far taken a pregnancy away from me. (I'm all for thinking fertiles have taken away pregnancies - fuck those bitches).
And we can try - at least for those 3-7 women that we're closer to - to keep in mind that when we're pregnant, after we've all been through we probably will barely be able to handle the guilt that we have built in, much less any additional guilt being put on us.
Thoughts for the Pregnant:
Much like my thoughts for the unpregnant were strictly about pregnant former infertiles and not the 'born again' fertiles, my thoughts for the pregnant will strictly be about people who are still in the trenches and have been there for awhile. Those girls who have been trying for two months - screw them. I'm bouncing them out of the club.
I have an infertile acquaintance who just had a previously infertile friend tell her she should 'be grateful for her infertility'. And then proceed to give her the speech - you know the one - about how her life has meaning now that she has kids, she just understands so much more now, things she couldn't have possibly known before!
I know you agree - How. Rude. How in the name of Jodi Sweetin does someone say something like that?
Here's the thing. Accidentally or on purpose, occasionally when someone gets pregnant they immediately assume that all other infertiles are going to get pregnant, and that now that they are pregnant, they can see the situation much more rationally.
It is - and I think we can all agree here - never appropriate to tell someone in the trenches anything other than "this fucking sucks that you're going through this and I am so pissed on your behalf". Jazz it up with your own words a bit, but you get the jist.
If you had recently beaten cancer, you would not go into the chemotherapy room, plop your now 20 lbs heavier body next to the sickly sucking on their popsicles, wolf down a burger and between swallows say "Oh my gawd you guys, you're going to be so thankful for this down the road". Because none of them know if they're going to get where you are (and neither do you) and some of them just won't.
Most of us are married - or at least have girlfriends, boyfriends, partners, etc. etc. I happen to be happily married. I have - maybe - a few helpful tidbits of advice, when asked, on marriage (that would work in at least.. my marriage). Finding Bub, being in the position to even start a relationship? Luck.
Should my 16 year old sister in law and I get into a discussion on love, I will tell her one day she's going to meet someone fantastic and if she wants to get married, she can.
When my 35 year old already divorced friend comes home from a blinddate and tells me that midway through dinner the guy cleaned his ears out with his keys, and then when they got back to his house disappeared into his bathroom for 20 minutes and at one point shouted "release the kracken!", I do not tell her this was all a necessary experience that is going to earn her love. (By the way - true story).I tell her that guy is a douchebag and that I'm hopeful for her, because there's only one reason I found Bub and she's on dates with kracken guy and that's luck.
My point is, with someone who's been in the trenches for awhile I think it's best to be pissed on her behalf, and optimistic for her at the same time without being condescending. Ask yourself when you're talking to her "am I in any way making this sound like I earned this, and she hasn't yet?"
Because - I'm sure you'll remember - for the most part it feels like we're all on the Titanic. Some girls got on a lifeboat when they were first available and not squished, and some of us are in the freezing cold water balancing ourselves on doors with that damn dead weight Leo. It's helpful to keep in mind, during communication, that if you got on a lifeboat, even if you don't feel lucky (because after all, you were on the Titanic to begin with) it's looking pretty sweet from the water. Do your very very best to avoid complaining about your lifeboat too much in front of those of us stuck in the water.
Thoughts for All Sisters-in-Shittiness:
If anyone's particularly nasty to you, cut em' loose. I'm all for spirited debate - gawd knows people don't always agree with me and I am wildly impressed that when they don't, minus 1/2 of an occasion, they express it in a way that makes me think.
But if they're expressing it in a way that's purpose is to make you feel shitty or stupid? Let me know if I need to go to bat for you, and try your best to guffaw at the situation (and maybe feel a little bad for them).

I'm adding this inspired by a note - I think another thing that we can all try to keep in mind... Should I get pregnant, there are going to be gajillions of infertiles who 'deserve' it more - who have battled far longer than me and with far worse circumstances. Likewise, there are going to be gajillions of people (particularly in real life) who have three kids, all conceived very easily, who 'deserve' it less than me.

Unfortunately, the line of people who get sent home after this war isn't organized by who has the most battle scars. (If it was, we'd have far happier children and far less orphanages - but it is what it is). I think we should all try our very, very best to accept this (which is close to impossible). If we could come close to accepting it, however, I think when we're happy we'd have less of it taken away by the sadness of others, and when we're sad we'd be less likely to be catapulted into an even deeper sadness. (And that's kind of the constant battle of this community, in a nutshell).
And pregnant or unpregnant, much like this cock-or-two, try to step a few feet out of your cage every once in awhile and apropos of nothing say to the world "bitch, I'm fabulous".