It. Is. Tuesday.
My week thus far has not exactly been a musical montage of jumping in leaves, wearing a charmingly pointed witches hat and eating all things caramel and pumpkin.
I am writing to you in the following state:
I went a glorious week without jaw problems.. this morning was out running errands, I yawned, and now it has unhinged itself again.
Fairly certain Bubba the Magnificent and his unstoppable German immune system have quietly brought me home some sort of bug
My Aunt this morning was having surgery, and something went wrong. No idea of any details except my Mom is rushing home from two hours away and they've transferred my Aunt to a different hospital.
So I am hovering over this computer ready to change clothes and run if need be, sans ability to speak and a scratchy throat to boot.
That's right ladies, Stork is bringing you autumn cheer live and in HD.
Not so much.
Confession: I am normally made entirely out of claymation between October and January, an obnoxiously positive toy from the Island of Misfits. I love Halloween, I love Thanksgiving, I love Christmas.
I thought it was the weather, maybe, but other than a slightly higher intake of horror movies, I haven't really been into it so far this year.
So not into it, in fact, that Bubba - who is not a holiday man - had to say to me this weekend "shouldn't we have more decorations? Maybe a pumpkin?"
I would be lying if I said it was just the weather that has me a little less appreciative. I get hundreds - if not an even thousand - of trick-or-treaters. No exaggeration.
So last year and even more so the year before, when there was a never-ending parade of small, waddling children dressed up as various animals, I thought 'oh this is so cute - I can't wait to do this with my kids... by this time next year I'll at least be pregnant'.
This year, more than likely, my internal response to the child-safari will be "Great, this is scary. I will spend the rest of my life handing out candy to other people's kids in a witches hat until eventually I'll be so old and alone the witch rumors will be real and year-round."
Sure, I have my zombie woman on my front porch, I finally gave in and bought a pumpkin today, and my dogs will be dressed as a pig and a skunk. And while skunk & pig are adorable and I love them to a psychotic, psychotic degree, they're not exactly tricking me into thinking I'm a Mom.
Much like Lionus in the Great Pumpkin, I stupidly think every year that if I show enough faith, things will change. One more year and I'll have my Great Pumpkin belly. The ever-elusive reward for my patience will show up, and my holidays won't be ruined. Every year I think it'll be it, and it turns out to be another year of dogs in costumes. Every year it's a little worse, and every year I have to dust myself off and say 'next year will be different'.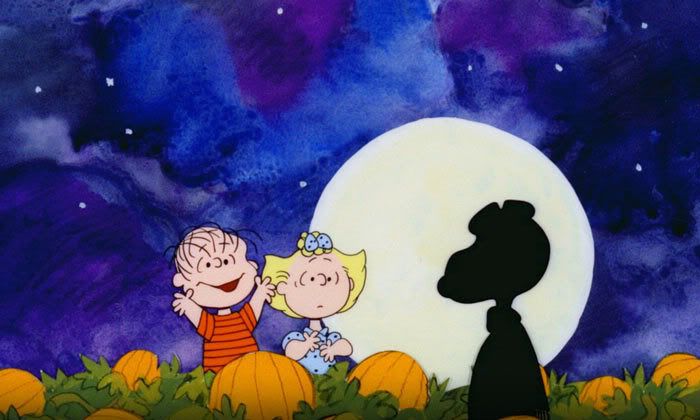 My lovelies, I have so much to catch up on.
To those who nominated me for a bloggy award - a hearty smooch to your behind, I'm gonna get on it.
I am 10 million years behind on writing prompts so prepare to get WAY too much Storky information in one day.
I'm gonna post a scary story of mine for Halloween. Yes indeed.
And I am sooooo thrilled that I got so many props for the entry I did on
Thursday
. I'm a quasi-brave person but I was
nervous
to write anything political! Thankfully my pissed side overpowered my chicken side... But I thought it was awesome how many people are thinking the same thing ( we need to be
louder
about it, girls) and even those who disagreed disagreed on only some aspects and did it very kindly. Warms my frightened uterus right up.
May your Great Pumpkins be here by next year.