Happy Thursday, Internet Infertiles!
This Sunday, the 22nd, I will have been married to Bubba the Magnificent for 6 years.
Six years ago Sunday, it was 20 bajillion degrees in southern CA, and our initially planned outdoor hippie-esque wedding was moved inside so as to not kill any old people. The air conditioning broke down. He sweatily promised to bring me coffee when I wanted it, and I moistly told him I wouldn't bring any animals home without his consent. Twas a very happy day full of love and overactive glands.
Perhaps I'll introduce him further in a future post, but to give you a taste - Bub is gorgeous ( I understand everyone's required to say this of their husband - but he is. Let's be facebook friends and you tell me you wouldn't do him). He is a freakishly smart professional computer nerd who spends far too much time with his metal whore. He puts up with me buzzing around him like a fly with ADD beautifully. Nothing makes me happier than to make him smirk.
How am I going to celebrate?
I believe I will sport matching underwear, and for a day put away the ginormous cotton panties which have been gently hugging my uterus through this dark time.
I will also be eating at my favorite restaurant. If you live in or plan on visiting L.A. - let's play! - you must eat at
inn of the seventh ray
. It's amazeballs, USA. It's deep in a canyon - you will drive in loopity loops in the middle of nowhere, thinking that the dark day has finally come where the internet has gained consciousness, turned against us, and Google Maps is in fact leading you to your death, possibly by a mountain lion, and then voila... Out emerges a beautiful restaurant with the best food I have ever eaten. And I'm chubby, so my vote counts for two women.
I am also contemplating getting a hair cut. My hair has been up for a month - I have naturally curly hair. Not the "oh, what an amazing earth goddess - I bet the tides get their cue from her menstrual cycle" sort of curls, but the "oh good G-d that is some afro for a pale person" sort of curls. Think Bellatrix Lestrange.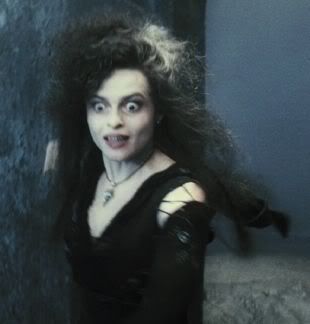 So yes folks, the Justin Timberlake Prophecy is coming to fruition - with the aid of a corset and a set of scissors, I will single-handedly bring sexy back.
So it's been six years, and minus this whole shitty reproductive stuff they've been happy years.
Did I imagine that we would have kids by now?
Yes
. Am I pissed about this?
Yes
. On the other hand, had someone said to me "
you can marry Bubba and not have kids, or you can marry anyone else and have as many kids as you like
" I would've picked Bub. Wouldn't have blinked.
Plus, when I'm super pissed off about our baby woes, despite being a snarky agnostic I have a hard time fully believing that G-d/Mother nature, whatever, is some sort of great big giant cat. You know, some days their love/awareness comes in the form of sitting in your lap and purring, others from gleefully digging their claws into your thigh. Sometimes they're with you constantly, sometimes you don't see them for days. Sometimes just to celebrate a Tuesday or because they've found a particularly good sunbeam they'll sleep for a week straight happily unconcerned with your activities. Like there's no rhyme or reason, just a great big disappearing cheshire in charge of my uterus.
Sure shit seems to mostly be just totally random. But there has to be some sort of... plan. Right?
Right?!
Because my cat theory is starting to gain traction.
In the middle of trying to resolve my fertility issues G-d got distracted by a butterfly or ball of yarn and has since forgotten what He/She was supposed to be doing in the first place.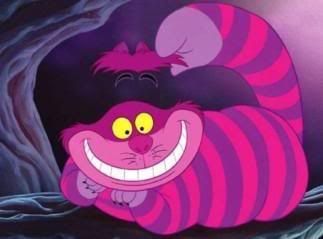 I regard religion in much the same way that I do marriage - if you have one, and you're happy about it,
great
. For others it would be a fucking disaster. I am happily married - it is psychotic how much I love my husband. Sometimes just looking at him I want to gnaw his cheeks and drink his blood like he was my own personal juice box. My love is
hardcore
. This does not mean everyone on the planet will be happily married simply because I am.
So I don't think marriage is for everyone, I just think it's healthy for people to have some kind of love in their life... even if it's just with music, a creepy doll collection or a snazzy kitten.
I don't think religion is for everyone, I just think it's healthy to have faith in something - Maybe it's G-d. If you're an atheist, maybe it's yourself.. Maybe it's Santa Claus, a creepy doll collection or a creepy collection of Santa figurines. Or if you're me, an agnostic gleefully without religion, maybe it's a non-committal "
let's just hope shit works out
", which hopefully isn't
too
naive providing that
G-d/Mother Nature/Zeus is
not
, in fact, a giant cat.
People who tell me they know all about G-d, they know everything about love, they know everything about why my reproductive life is working out the way that it is, I consider it to be tabloid fodder. Someone really excited about an idea, and hoping that you agreeing with them will help solidify their own beliefs. I don't trust anyone who says "
I know everything
". The only appropriate answer, in my opinion, to any of the big questions including G-d, love, or the all-encompassing "
why
?" is "
I'm figuring shit out
".
For the record, I also don't trust people without freckles or moles. I find them instantly suspicious.
Yes that is a picture of my cat wearing a bird hat.
You know what would be an excellent anniversary present, interwebs?
Sending me your secrets
. Secret Sunday is almost upon us.
So easy.
Think of a secret of yours (something you once did, wanted to say, something gross, something you know about someone else, etc. etc.)
Include how you want it to be signed (you can be anonymous)
It all goes into Sunday's post, a virtual slumber party.
Give them to me. Mokey, the obese cat in a bird hat, judges you.