Happy Thursday, my little internet geishas!
Despite accepting that there are idiots on this planet that believe
body parts are conscious and sentient
(ahhh yes... I remember that one time my kidney sat me down for a hot bit of cocoa, and asked me how I felt about her creating a stone, seeing as she was unsure how much I
enjoyed
all the caffeine I guzzled) I am still having one helluva period.
I have been in a hormone induced funk. So I've been playing Mario bros.
Anyone else find that whole storyline strangely pornographic? What are these plumbers doing involved with a princess? Is she a bored housewife? While the prince is away is she inventing plumbing problems to get a wee bit of attention? How many people are aware that she is knee-deep in blue collar Italian workers, not to mention dungeon culture? I don't even want to think about how giant lizards come into play.
It's all very S&M.
Senor Bubba's sperm analysis is on Monday. He had one, oh, I want to say a year ago. Twas fine.
I made him take pictures of the inside of the room.
In a very-fancy-I-assure-you clinic, the spooj room was just one sad couch that looked like it hadn't been replaced since the mid 1970s (who says you can't pull off a neon print?), a shotty tv and a stack-o-porn.
I don't know why I was expecting something super fancy and secret and a kinky-deserving-of-Mario... I'm fairly certain if you put a man in a hazmat suit, gave him a TV that only broadcast the Teletubbies and invited the local senior citizen center to watch him, he'd still figure out a way to get off.
Which begs the question... What would the lady version of that room look like?
Honestly, our plumbing tests are just no fun. Tis a cruel world wherein infertility testing for a man involves an orgasm, and for us it involves multiple versions of everyone's favorite game "
how many things can we shove up there? Could you shoplift a watermelon?
"
I'm thinking candles, I'm thinking flowers, I'm thinking wine.
I'm thinking they'd have to hire some man to sit you down and compassionately nod whilst you tell him about your childhood, while he simultaneously greased his own abs.
Everything would be upholstered in Ryan Gosling. Pictures of him, his flesh, his dirty tissues, whatever.
There would be speakers telling you repeatedly that you are
stunning
, that men prefer a little junk in the trunk, and that there is nothing sexier than a woman in sweatpants & a tank top with holes in it, eating her weight in chocolate and yelling about senators.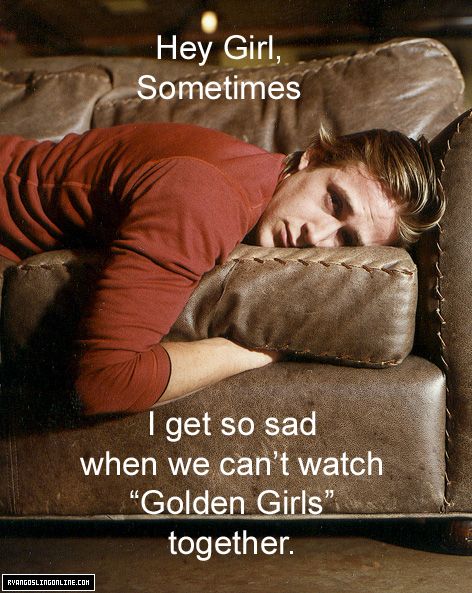 So you there - you there in the funk. Yes, I'm talking to you. Don't question me, damnit - either I read your blog or I have sensed you psychically in the ether.
Dear You,
Tis a shitty shitty thing that we are both members of the terrible club that knocks you down repeatedly before you can get knocked up. (It's very chumbawamba of us).
You're just going to have to conjure up all the best bits of all the women that you used to be, because it's going to take all of them to stay afloat.
You are an amazing, kick ass woman - and you know I don't like people on the whole, so my vote counts twice. I have never met/read a huge idiot who had a genuine problem with getting pregnant - but how many idiots do we know that got pregnant easily?
When it happens - and it will - you'll be putting one up on the scoreboard of awesome people in a time when we're losing dramatically to awful people. Because you've been a Mother to that kid looooong before it was conceived, and love is never something you're going to have to work for.
When you're angry/frustrated/just done with your uterus, and you're thinking that you are disappointing everyone - yourself, your husband/boyfriend/girlfriend/plumber, your pain in the ass mother-in-law - and are thinking you may not end up with a child at all, know this: should you never procreate, all those people (including myself) will have considered themselves lucky to have known a kick-ass, fascinating and vibrant warrior woman that makes up for those boring assholes down the street with 10 children.
Now
send me your secrets
, asshats.
Love,
Stork