Happy Wednesday, warrior-wombed.
I am, yet again, at the mercy of the a/c man. Today is the day he will come and make my breezy dreams finally come true. That's one trip for diagnosing, one trip for removing giant hunk of metal treason, one trip for replacing. Did I mention because of conflicting accents that I can't understand a word he's saying, and he can't understand a word that I'm saying? If this were housewife porn we'd be off to a very rough start. And seeing as how a giant tumbleweed of dog hair just blew past me I can safely say I would be the world's worst housewife, so no porn angle is a little limiting.
I'm sure everyone is aware of what's
happened in Ohio
on Monday, but seeing as how I can't be sure how much coverage this is getting outside of the U.S., I'll give you the jist.
Three women in Ohio went missing, separately, 10 years ago - two were minors and one was 20. On Monday evening, a man was outside of his house and heard a woman screaming next door. Upon further inspection he saw that it was a young woman holding a child, trying to escape his neighbors house. So that man, Charles Ramsey, broke down the door and called 911. He thought he was intervening in a domestic abuse incident, and it turns out he was helping to free three women - and a resulting toddler - from the captivity they'd been held in for ten years by three brothers.
First, let's all take a minute and think about what a freaking miracle at the end of horror this is. Horror because I think this sort of thing happens a lot more than we think it does. Horror because we can only imagine what those women have gone through. Miracle because when I hear about someone going missing for ten
days
, that dark part in the back of my head thinks '
what are the chances they're still alive?
'. These women resurfaced after ten
years
, and just a few miles from where they went missing.
Second, can someone buy this man a beer? Free McDonalds for life? A pony? Something?
If you've watched or read
interviews with this man
, he is definitely rough around the edges. So naturally, seeing as he's a black man combined with the fact that he's not pretentious, some of the interwebs is making fun of him and saying he's going to be the next Antoine Dodson (of '
hide you kids
, hide yo wife' fame).
(Sidenote: Antoin Dodson has now
renounced his homosexuality
. I have no words... Hide your wives?)
Ummm, no.
This man was a bystander that sprung into action. It would have been the much easier, much more popular route to take to simply go inside and 'mind his own business'. Thinking it was just going to be an instance of domestic abuse - which is famously ignored a lot of times - he got involved. He helped the woman before he even had time to think how it would affect him. If part of his brain wondered if right behind the girl there was going to be an angry man with a gun, and I'm sure it did, he didn't listen to it and a lot of people would have.
And now that he knows what he did was not just the 'typical' domestic abuse incident in a bad neighborhood? He doesn't even want the reward.
No one should give a shit about how he 'presents himself' and just be figuring out how to present him with a round of drinks, and pray for neighbors this good.
When I lived on the east coast, I volunteered with a rape response organization. We dealt with women directly after their assault, and accompanied them to the hospital. From my experience with that I can tell you that it is frightening how often someone has the opportunity to intervene, call 911 -
do something
- and doesn't do it out of fear. In the self-defense classes we used to teach, one of the first things taught is if you're in trouble to yell "
fire!
" because "
help!
" people have a tendency to ignore.
And really, when things like this happen and you hear a story of someone being heroic, it's an opportunity to ask yourself and really think about what
you
would do. And be inspired to be a Badass free of Bullshit like the ridiculously charming Mr. Charles Ramsey.
(This one did give me an inappropriate chuckle, though...)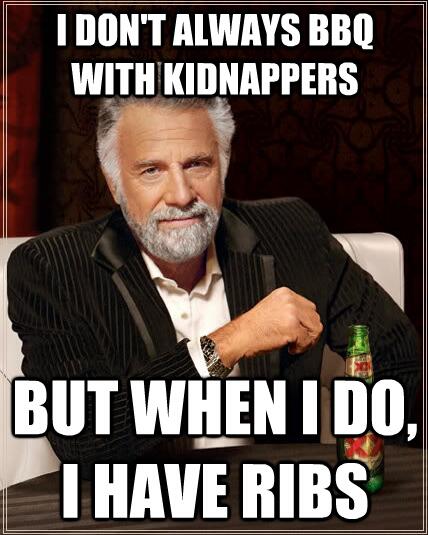 While we're on the subject I need some guidance, and ye whose lack of functioning wombs have been replaced with wild amounts of wisdom, will hopefully be able to help me figure things out.
On Monday I wrote about
munchausen by internet
, wherein a person keeps a fake blog for attention, usually full of horrible tragedy and unbelievable miracles. The last two days my time usually reserved for dicking around the internet and watching cats behave cat-like has been replaced by gobbling up information on this phenomenon.
Here's the thing...
At what point do you intervene with a blogger? When do you go from being a reader to being a bystander?
If you come across a blog where a person is claiming to harm themselves or to be in some kind of situation where they're being harmed or harmful, is there really a difference between passing that blog by and passing by a similar person in real life?
Normally, when a story or concept gets me playing the 'what would I do?' game I'm pretty good at it. I'm not a woman who waffles (though I do love me some waffles). I know with a good deal of certainty that in the fight, flight or freeze scenario whether it's on my own behalf or someone else's, I fight.
But until the last couple of days, all of those scenarios involve something happening right in front of me, live and in HD. Adding the internet to the situation throws me completely off.
If a woman was in front of me and making claims - however outlandish - of being beaten, tormented, abused or victimized, whether it be by herself or by others, my thought process would be
what
do to do help her, not whether or not I
should
.
If I came across a blog where the woman was making the same claims... this is where I get stuck. If she's not asking for money, do you just leave her to it?
Even if you know the claims being made are more than likely untrue...
what if you're right
? Girlfriend still needs help, and even if you walked away you don't know that other people won't become emotionally or financially invested. Or worse -
what if you're wrong?
I can't help but think that at that point you have now, albeit in the comfort of your own home wearing pajamas, become the asshole on the news who walks past a woman passed out on the street.
Is there a difference between seeing something like that online and just quietly stepping away from the blog, and seeing something like that in real life and walking past it? And if there is a difference, help me - what is it?
I think that the bright cornea-burning computer screen somehow takes the edge off of remembering that on the other side of what you're reading there are real people. The security of being invisible as you pass through people's lives makes a whole lot of things possible. It makes it possible for us to ignore things that we don't like, to make fun of people like Charles Ramsey, to look at the facebook pictures of that dick ex boyfriend you had in high school.
If you removed the computer aspect from people, very few would be able to walk by a woman screaming '
help I'm being abused! Pay attention to me!
' even if you were pretty sure she was lying. No one would have the balls to mock a guy who just did something completely heroic. You would not be in your ex boyfriends bushes with binoculars (...hopefully not).
The internet gives us permission to do a lot of things, and I am mostly cool with that. If someone's blog bugs me, I don't read it. The unfollow button may be the greatest thing to happen to the internet since someone figured out how to upload videos of cats.
But in the online world, at what point does ignoring something make you complicit? What's the line a blogger's toe would have to go over to make you want to figure out how to intervene? And then, do tell, if you do find a blogger who is making outlandish claims and you find yourself wondering whether it's worse if she's lying or telling the truth, if you
did
want to do something... what exactly would that something be?
I'm thinking of the example (and subsequent blog) I read online, where a woman faked her cancer blog. Claimed she was dying, had been abused, had had suicidal thoughts. The people who reached out and tried to help were screwed, because she was a fake. The people that ignored it let those other people be screwed. So what would have been the happy middle solution? Would there have been one?
I in no way shape or form would want to go trampling in someone's life without permission. Violation of privacy is a disgusting feeling, and I think we can all agree my specialty is more in the realm of inappropriate jokes. I also know, however, that in real life I never want to be the person who regrets not doing something because it was 'none of my business'. Does that translate to online though? I don't know. And how does the online world make it seem like it's
really
none of your business, even though I think we can agree part of the purpose of blogging is to have people read it?
The last couple of days of thinking about these things and all I've come up with is that if you throw in a computer into any given situation, I will freeze... and I'm not a freezer, ya'll, I'm a fighter. Just tell me how.