Good morning, sunshines!
I sincerely hope your cinco de mayo has not transformed itself, this morning, into a cinco de uh-oh. Fun fact from a former resident of Mexico: no one celebrates or gives a shit about it there. Cinco de Mayo is basically Mexican St. Patrick's day - just replace the leprechauns with donkeys in sombreros.... nonetheless I am in support of any holiday where animals wear hats and nachos are encouraged.
The weekend in the mountains with my Mom was hella relaxing, ya'll. Thanks for all the loverly wishes - seeing as it's a day to both celebrate my Mom's birthday and mourn the fact that my Dad passed 10 years ago, it's a bit weird and tricky, and every year we sort of blindly grasp at how exactly to feel about it. A game of pin the emotion on the sombrero wearing donkey, if you will.
I'm happy to report that pretty views, unbelievably fat squirrels, wine and the potential to get eaten by a large bear helped ease it quite a bit. Be jealous:
Today I would like to talk about something weird and disgusting. Either you're going to pass by this entry and think '
well that's weird
', or if you're like me, one of those people that has to gawk at the accident on the side of the road, you're about to disappear into the internet for about 4 hours feeling equally intrigued and nauseous. Soooo yeah... I'm about to weirden up your day.
A few months ago I read
this article
. Don't worry, I'll give you the jist, but holy shit me read it when you get the chance.
A lovely lady was diagnosed with breast cancer, and felt isolated and in need of support about her diagnosis. She turned to blogging and, as you do, found ladies that were in her exact same position. She also, without trying, found multiple people who were faking cancer, and blogging about it to get sympathy.
There are several examples of it in the article, but there was one that bit me on the ass harder than the rest. A young woman in Texas made a tumblr blog about having AIDS and cancer when she was, in fact, perfectly healthy physically. She went as far as to shave her head, fake seizures in videos, order feeding tubes and wheelchairs off of Amazon, receive hundreds of gifts from well wishers, etc. She even conned some friends into changing her adult diapers. (Let's all pause for a moment and let that sink in...). Even though the article uses pseudonyms, it didn't take a lot of snooping to find the real blog. When one of her friends found out what she was doing, she broke into the account and changed the password so that the blogger couldn't take down what she had done.
So when I found the blog a few months ago, I disappeared into it and read it from start to finish. It is, suffice it to say, super disturbing... But if you're like me and want to look, I suggest reading from the beginning. So
click at your own risk
.
Part of me wanted to write about it a few months ago, but I couldn't really find words. Then yesterday
this lovely lady
(wanna find blogs you have mysteriously missed? Join twitter) tweeted the article and after we started talking about it I was re-inspired to maybe open up the discussion on this sort of thing.
Soo... it's a completely icky thing to think about, I know. I don't even like typing it, but my thinking that our little infertile corner is and will remain to be completely immune to this sort of thing, is probably me being optimistic and naive. I mean, this
is
the internet. In regards to any other subject I logically understand that a good percentage of it is full of shit, and if there are 100 blogs about lady troubles one of those is going to be written by a bored, slightly disturbed middle aged man. And yet somehow in regards to our type of blogging, I would still be shocked to find out that someone was full of doo doo.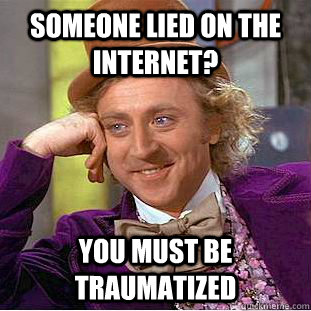 For the record, I'm not really a blog unfollower. Once I follow, I follow. I think in a year I may have unfollowed twice and both were because the blogs turned into 99% religion and 1% infertility (with a religious twist). It was just too much for me, and I didn't see a scenario where I would read with excitement and/or have a helpful comment, and probably more so I unfollowed because if they really started reading me back they would inevitably start a petition to have me burnt at the stake. That's been the extent of my having to step back from any blogs that I read.
I have, however, had a few moments of the internet where I never engaged with an infertile at all because something struck me as off.
A long time ago, I happened to be perusing new blogs at Mr. T's house and happened to come across the blog of a pregnant infertile. I read a little, and something about her story struck me in my gut as wrong and I couldn't really put my finger on it. Then she posted a picture of herself 6 months pregnant, and I showed it to Mr. T and asked "
does this look right to you?
" and he said "
that's not pregnant, that's just fat
". That may sound judgey - keep in mind I'm a chubby girl, and my chubby assessment was that he was right. Feed me a steak, give me an hour, I could recreate it myself.
I used to be a regular on one of the more popular trying to conceive forums. Now, these are hugely helpful websites, especially this one... but more than once there was a girl who was very obviously full of shit, or whose sole purpose was apparently to stir shit up online. (I can't, ya'll... I'm too exhausted for shenanigans. My feeling is that if you find yourself using the word 'drama' on a regular basis, you're probably the cause of it).
And of the few times people have seemed not-quite-infertile in forums, I don't think it's a case of someone telling a lie to the internet - she
believes
she's infertile. When I was an active user, every few months there would be a case of someone having recurring chemical pregnancies, and a gang of frustrated infertiles would whip themselves into a frenzy telling her it was impossible. I had a 100% verified chemical pregnancy from IVF -
100%
verified because they were monitoring me so closely. I typically call it an early miscarriage because for a few days there I had the medical community's permission to be happy. We can save the argument for another day, but it doesn't matter to me if a girl can actually prove to me that she's had a chemical pregnancy... I know that some people have had a ton of them, and some who believe they've had ten have never had one. As someone who has definitely had one, I take no offense to the idea that she might be wrong if it's real to
her
. And if it does irritate me, I just leave her to more understanding people.
My response on the very few occasions where a blogger or forum user (when I was one) seems fishy is to just not engage with that person or take a step back. I have yet to be invested in someone and think '
wow this person is full of shit
'. I suppose if someone had a lot of people emotionally invested - and
definitely
if they had anyone financially invested - and I had proof that they were full of crap, I would say something. As ballsy as I tend to be, though, part of me would hesitate in rounding up the pitchforks.
Why, you ask?
One, the easiest way to tell if someone is doing the whole munchausen by internet thing is if they fall victim to a series of tragedies... however a good percentage of infertiles, including myself, have fallen victim to a series of tragedies - when it rains and all that. I am a person whose history has some outlandishness to it. I'm adopted and half of that story is coocoo. The day I found out I had to have IVF, I came home and my cat died. My Dad died on my Moms birthday, for chrissakes. Gawd knows some of us have recurring miscarriages and that is quite literally a series of tragedies.
Two, I would be hesitant to round up the townsfolk and battering rams unless I had more than just my gut feeling, because I'm not sure what I would do if someone said to me "
I don't believe you are who you say you are! Prove you're infertile!
" I mean, honestly... If someone were to leave that as a comment to this very blog post I'd be like... "
Umm.. Dude, I dunno how to make you feel better about it... Come to Los Angeles armed with sperm, try to impregnate me, watch the ensuing meltdown?
". Seeing as I am infertile, I would be hap-hap-happy for someone to find a way to prove to me that I'm not one. My entire infertile existence at the moment is dedicated to finding someone who can find a way to prove that I'm not one. Make me a liar, Doctors!
Three, it's just sad. Don't get me wrong it's totally fucking disturbing, but it's also... just sad. I'm not sure how you go about dealing with someone in that kind of dramatic mental state without doing more damage.
Four, and this is going to sound wussy... I have stumbled across once or twice a blog where people are in love with the blogger, and I don't get it, it's just not for me. It would never occur to me to stand up on a soapbox and say "
hey, why are you all kissing this girls ass? Explain it to me
". I just don't read it. So if I just had a feeling in my gut about someone, I would be hesitant to stand up on my internet soapbox and say "
hey guys, why are you all believing this? Explain it to me.
" Mostly because I wouldn't want to be pitchforked myself (this is all assuming there's no request for 'donations' or anything. I'll let people hate me for a few minutes if there's a possibility of saving them money).
From my disappearing into hours of reading about Munchausen by Internet, I've gathered a few things that make me feel a wee bit more confident about the possibility of a day when I'll have to ignore my hesitations.
One, if the person is full of doo-doo their series of tragedies will be incredibly outlandish and unrelated to each other. And more than likely, it will happen at a time when someone else in their online circle is going through something real that may steal the spotlight from them for awhile. There will be dramatic twists and turns, etc. It won't just be that they got a flat tire, it will be that they got a flat tire because they had a seizure behind the wheel after swerving to stop themselves from hitting big foot. And most important, it'll happen a lot... Not just one dramatic thing a year, or a series of totally related dramatic things, but unrelated dramatic things happening to them
all.. the.. time
.
Two, the stories that they tell are usually fairly easily disproved with a wee bit of research. My big point here is by all means if you have a gut feeling about someone, do some research.. but be armed with proof before you go dismantling someone.
Three, they are mentally disturbed. We're supposed to respond firm and gentle with the purpose of getting the victims out of the situation, not with the purpose of harassing the perpetrator for initiating it.
Four, if you find a person like this more than likely their followers are going to be pissed with you at first if you're the one to hold up some proof.. Who wants to initially believe that someone would do something like that? You'd be doing it not to build a gang and light torches, but to save some people time and energy once they've had time to process their initial response. Personally if I was convinced enough of someone's falsehood, I would probably just privately email someone else in our community that I trusted, to have them verify to me that I wasn't being batshit before I went about trying to handle the situation.
So I've only had a few gut feelings about a few people in my entire online infertile experience... I've lucked out. So begins my internal discussion and my questions to you,
what exactly are we supposed to do when this happens? Has this ever happened to you?
The darling
Rachel
had the idea that maybe we should blog about this... Let me know if you do. I'm just thinking maybe we should have the discussion, as icky as it is.
Sidenote: I love me some catfish. That show freaks me out and intrigues me to the point where if I watch too much of it I turn to Bubba, who I met partially on the internet, for reassurances that he's not in fact a portly middle aged man with a wife.