It. Is. Thursday.
May yours be full of glitter and unicorn farts and topped with a generous helping of awesome sauce and a sprinkle of fuck yeah.

Just wanted to say really quick - this blog is my crack den of free therapy and you are the coke I get to snort off of a hookers teet. Therefor it should go without saying, that if all goes well I will not be doing the ole "well, fixed that problem so peace out, suckas!". Nor will I hold it against you if you have to take a step back from me a bit or a lot at any time, and if you're on the fence about it - let me just say I don't want to sit at the freaking fertile table at lunch. Also, I am unsure how much I will be talking about pregnancy on here but I can tell you that for now it may be a lot because I'm nervous, but once that subsides a bit when I do talk about it it will be in the manner I talk about everything else which is 90% totally freaking ludicrous. And that's all she wrote for now.

My betas went swimmingly - at 12 dpo (7dp5dt) it was 44, 14 dpo 135, 16dpo 386.
Today I am - and I can't believe I am saying this - 5 weeks and 1 day pregnant. I am nervous and grateful and nervous and excited and nervous.
...And nervous.
I know what you're thinking - '
just enjoy it you asshat!
' because this is what I would have been yelling a few weeks ago. And I'm trying to.. I'm trying to. I'm trying to live every moment as though its soundtrack was a super duper relaxing 70s funk song.
(No joke - I was up for two hours in the middle of the night with that song stuck in my head, being further and further enraged that there's no explanation as to why it's called strawberry letter 23 WHEN THEY KEEP SINGING 22. No I was not high though that would greatly help my nerves at this point).
I'm trying to be a groovy, groovy bitch and I am about 60% of the time. The other 40% is spent worrying what will happen if I allow myself to be totally happy.
I go from feeling like a giggly creature high off the ole strawberry funk to totally overwhelming anxiety. Pretty damn quickly.
I just wonder when it lifts - when the worry lifts and it feels real. When the overall worry will lessen enough for me to
mostly
feel the happy.
And before you get totally irritated with me - I am SO happy and so fucking grateful there are no words for it. I just want to feel it fully
without
being a superstitious ass about it and get it through my thick skull I won't get punished for enjoying the happy.
I have to be better about letting myself feel happy because right now, in this moment, I am pregnant. I've been waiting for this for so long, and damnit I'm going to enjoy it.
I occasionally shout to my husband (full decibel) THERE'S A PERSON IN HERE. Mostly because that doesn't fully register with ME.
There's a PERSON IN HERE. I have to try to relax and enjoy that shit because by the beard of Zeus, after 4 years there is, as of this moment, a PERSON IN HERE.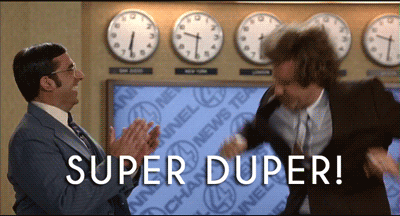 Tomorrow is my first ultrasound - I'll only be 5 weeks 2 days so they'll just be looking for a sac (or sacs).
I promise to become a much more interesting person once this worry subsides a little.
Keep a toe or two crossed for me - I shall update tomorrow.
Until then, you stay funky internet.